LANDMARKS by Robert MacFarlane
Words are grained into our landscapes, and landscapes are grained into our words. Landmarks is about the power of language to shape our sense of place. It is a field guide to the literature of nature, and a glossary containing thousands of remarkable words used in England, Scotland, Ireland and Wales to describe land, nature and weather.
Travelling from Cumbria to the Cairngorms, and exploring the landscapes of Roger Deakin, J. A. Baker, Nan Shepherd and others, Robert Macfarlane shows that language, well used, is a keen way of knowing landscape, and a vital means of coming to love it.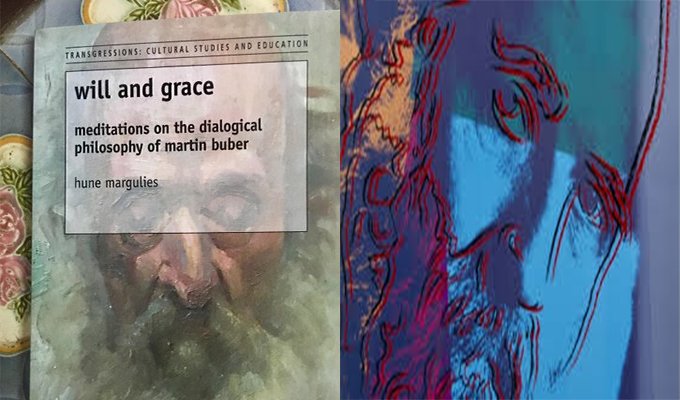 WILL AND GRACE by Hune Margulies
this book is a poetic reading of the dialogical philosophy of martin buber. my reading of martin buber takes me to this principal insight: god is not in heaven nor on earth. god is not above nor below. not within and not without. not in the soul or in the flesh. god is not an entity anywhere: god is the between of an i and a thou. these pages are not an academic study in the strict sense. my meditations in this book are not a literal description of buber's philosophy, for buber would never have approved of taking his words in any way other than in dialogue. buber wrote in-dialogue with the reader, and i read buber in the poetic philosophy of his words.
in other words: we can say that the essential thinking in martin buber's philosophy is that the presence of god in us is always enacted as the presence of god between us. god, like love, like poetry, is a deed we do. the god-deed is actualized not in rituals or temples, but in the practices of the sacraments of the neighbor. for there is nothing we can predicate of god, but we can still meet god in the embrace of the neighbor. we meet god as we meet with one another in genuine relationship. god is not in the relationship, god is the relationship. god is no-thing, but there is nothing that isn't god in the between of an i and a thou.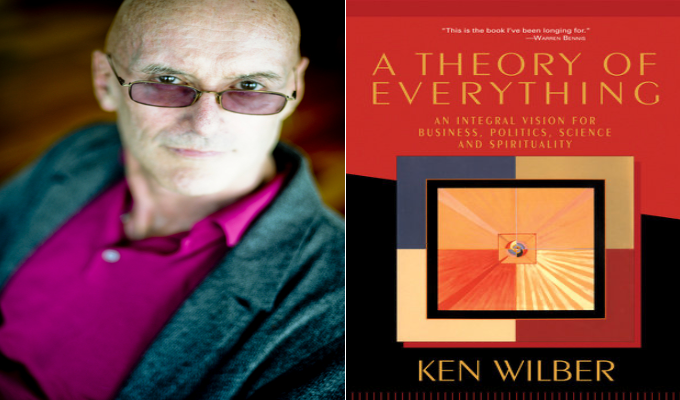 Theory of Everything
by Ken Wilber
Ken Wilber has long been hailed as one of the most important thinkers of our time, but his work has seemed inaccessible to readers who lack a background in consciousness studies or evolutionary theory—until now. In A Theory of Everything, Wilber uses clear, non-technical language to present complex, cutting-edge theories that integrate the realms of body, mind, soul, and spirit. He then demonstrates how these theories and models can be applied to real world problems and incorporated into readers' everyday lives.

Wilber begins his study by presenting models like "spiral dynamics"—a leading model of human evolution—and his groundbreaking "all-level, all-quadrant" model for integrating science and religion, showing how they are being applied to politics, medicine, business, education, and the environment. He also covers broader models, explaining how they can integrate the various worldviews that have been developed around the world throughout the ages. Finally, Wilber proposes that readers take up an "integral transformative practice"—such as meditation—to help them apply and develop this integral vision in their personal, daily lives. A fascinating and easy-to-follow exploration of the "M Theory," this book is another tour-de-force from one of America's most inventive minds.
Keep Moving
by Maggie Smith
"Every once in a long, long while a book comes along that challenges and changes everything. Keep Moving is exactly that book: an ingenious synthesis of poetry, proverbs, journaling, lyrical prose, belles-lettres, psalms, meditations, and aphorisms. It defies any tidy definition, and thus, practically defines a new genre that gives everyone—no matter what walk of life—the gift of pausing to reflect on what we didn't know we already knew about ourselves because we never had words for it, until Maggie Smith. These pages give us a unique and poetic opportunity to recognize the joys within our failures, the peace within our terrors, the simplicity within our complex lives—and then some! It is sure to become a classic that will be read for decades to come."
– Richard Blanco, Presidential Inaugural Poet, author of How to Love a Country
When Maggie Smith, the award-winning author of the viral poem "Good Bones," started writing inspirational daily Twitter posts in the wake of her divorce, they unexpectedly caught fire. In this deeply moving book of quotes and essays, Maggie writes about new beginnings as opportunities for transformation. Like kintsugi, the Japanese art of mending broken ceramics with gold, Keep Moving celebrates the beauty and strength on the other side of loss. This is a book for anyone who has gone through a difficult time and is wondering: What comes next?
The Vanishing Hours
by Barney Norris
Shot through with compassion . . . this dreamlike, winding tale is a joy.' A. L. KENNEDY
'Moving and unconventionally wise' Guardian
This was how I heard the most important story of my life, the thing that decided me, the story that determined who I was in the end.
At a hotel bar in a quiet English town, two strangers meet by chance and share their stories. Hers is of an inconspicuous life, shaken by heartbreak and scattered with unfulfilled dreams. His is a dizzying tale of an unending quest for someone he lost in his youth.
From the blustery cliffs of Dover to the confines of a dark prison cell; from the courtroom witness box to the West End stage, we join him as he slips through time.
Extraordinary though his story is, what she has to reveal is even more surprising, and will take them to a place neither of them – or you – expected.
From the bestselling author of FIVE RIVERS MET ON A WOODED PLAIN comes this captivating novel about love, abandonment, and the power of stories to help us find meaning in a confusing world – a world that can sometimes threaten to overwhelm us, but one that is rich with possibility, and always full of wonder.