LANDMARKS by Robert MacFarlane
Words are grained into our landscapes, and landscapes are grained into our words. Landmarks is about the power of language to shape our sense of place. It is a field guide to the literature of nature, and a glossary containing thousands of remarkable words used in England, Scotland, Ireland and Wales to describe land, nature and weather.
Travelling from Cumbria to the Cairngorms, and exploring the landscapes of Roger Deakin, J. A. Baker, Nan Shepherd and others, Robert Macfarlane shows that language, well used, is a keen way of knowing landscape, and a vital means of coming to love it.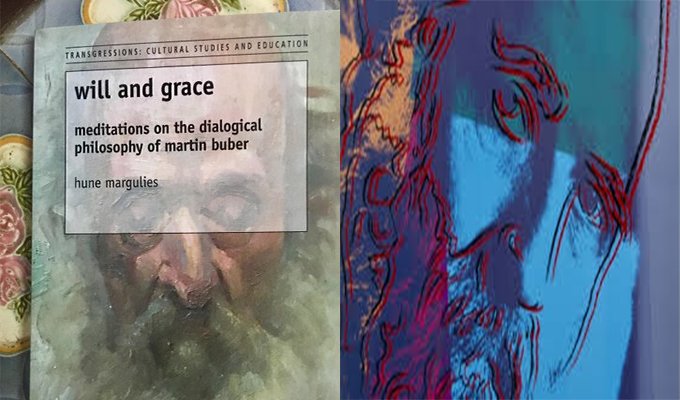 WILL AND GRACE by Hune Margulies
this book is a poetic reading of the dialogical philosophy of martin buber. my reading of martin buber takes me to this principal insight: god is not in heaven nor on earth. god is not above nor below. not within and not without. not in the soul or in the flesh. god is not an entity anywhere: god is the between of an i and a thou. these pages are not an academic study in the strict sense. my meditations in this book are not a literal description of buber's philosophy, for buber would never have approved of taking his words in any way other than in dialogue. buber wrote in-dialogue with the reader, and i read buber in the poetic philosophy of his words.
in other words: we can say that the essential thinking in martin buber's philosophy is that the presence of god in us is always enacted as the presence of god between us. god, like love, like poetry, is a deed we do. the god-deed is actualized not in rituals or temples, but in the practices of the sacraments of the neighbor. for there is nothing we can predicate of god, but we can still meet god in the embrace of the neighbor. we meet god as we meet with one another in genuine relationship. god is not in the relationship, god is the relationship. god is no-thing, but there is nothing that isn't god in the between of an i and a thou.